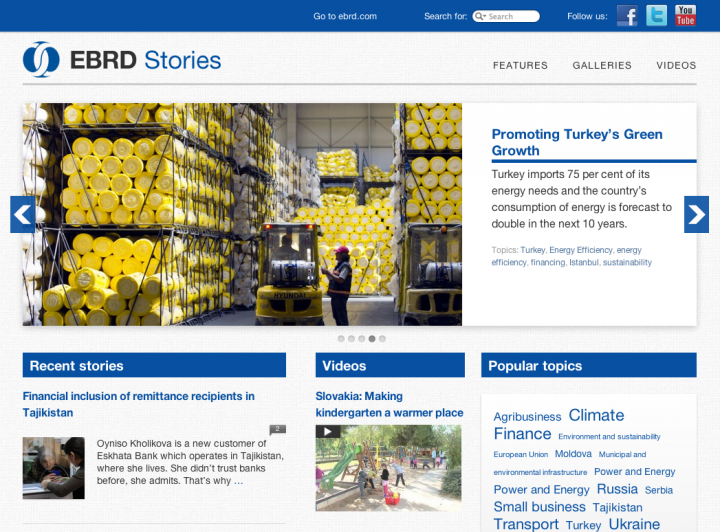 Visit the site
After working with them on the Annual Meeting website, European Bank for Reconstruction and Development (EBRD) approached me to design and build their new blog site, EBRD Stories.
EBRD were great to work with on the previous project, so I didn't hesitate to work with them again. This time I was to be involved right from the start.
Planning and research
The initial stage was to plan and research the site. I was important to really understand the purpose of this site to deliver the best results for the visitors and EBRD.
Functionality, content types, content classification and information architecture were all explored at this stage.
As with any corporate build, maintaining brand consistency was key. However, this site was to have a slightly less formal feel.
Wireframes and mockups
EBRD had ideas about the look and functionality of the site. Together we explored these ideas and came up with a series of page wireframes. These are simple representations of page content and general structure.
From the wireframes and the decisions made on branding and tone, I produced more detailed mockups of the key pages. These included basic layout, typography and colour schemes, as well as other graphical motifs.
Mobile friendly
We had decided to build this site using a responsive grid system. This allows the site to re-size to fit the screen that it is being used on. With the ever expanding mobile market, it's important to consider how your site looks on every screen size.
Building the back end
The site is built on WordPress, which is perfect for a blog style site. I built the theme and a few custom plugins to handle some of the required functionality. With regular feedback from EBRD we produced a site that we are both very proud of.
Launch, and looking to the future
A good web relationship doesn't finish when the site is launched. Ongoing testing, improvements and changes are needed to keep the site fresh and moving forwards.
Tags: design, development, responsive, WordPress
Visit the site
View my portfolio
Get in touch