This service now lives over at WP SEO Reviews.
Boost your traffic and grow your business. Or your money back.
Want to increase search traffic to your WordPress site? Don't know where to start?
Search engine optimisation (SEO) is a huge topic that can be daunting. Our WordPress SEO review will provide valuable, actionable insights that will help boost your traffic and grow your business.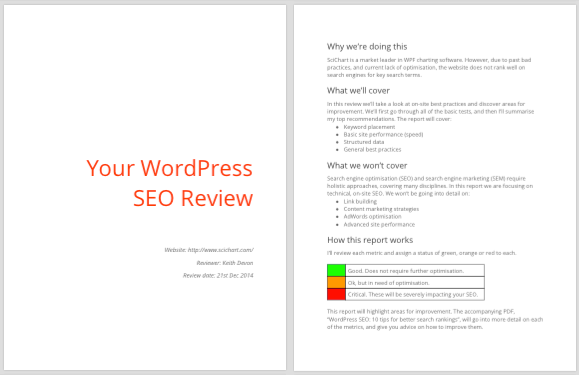 Our reviews are made for you if you're:
a WordPress website owner
looking to improve your search traffic through better rankings
too busy to become a SEO expert yourself
spending too much on AdWords
recovering from previous poor SEO advice
WordPress SEO: 10 tips for better search rankings
FREE E-book. Learn the basics of WordPress SEO and how to improve the key metrics
Improve your Google ranking
That vast majority of websites are built without SEO in mind. Many WordPress themes look pretty, but aren't search optimised.
Although SEO is a huge area, luckily, there is usually plenty of low hanging fruit to pick. By getting the SEO basics right, you'll set yourself ahead of most of the competition, and give your site the foundation upon which to build successful SEM and AdWords campaigns.
How does the review work?
The review focuses on four main sections:
Keyword placement
Site speed
Structured data
General best practices
Within each section we'll look at a broad range of factors and metrics, using a suite of testing tools. Each factor will be given a status of 'Good', 'Ok', or 'Critical'. Each of the 'Ok' and 'Critical' factors are explained, and have suggestions on how to improve them. Each section also has a list of resources if you want to learn more.
This review is for technical, on-site best practices only. We don't cover
off-site SEO such as link building
content marketing strategies
AdWords optimisation
advanced site performance
Those are huge topics in their own right, but by getting the basics of on-site SEO right, you'll have a solid foundation for other online marketing activities.
How can this review help me?
Sites at the top of Google's organic search results get approximately twice as many clicks as those in second place. Ranking highly on Google (and other search engines), for your targeted keywords, will get more traffic to your website. More traffic means that you can build a greater audience for your product, service or content.
Reduce your AdWords spend
A well optimised website can also save you money if you're using AdWords. Google will give higher 'Quality scores' to sites that it thinks are more relevant to the target keywords. Good SEO means a higher 'Quality score', which means you spend less per click.
How much does it cost?
Reviews are priced at £400 £199 (half price until the end of January 2015) . If your business has revenues of over £40,000, the review would pay for itself with an increase of only 0.5%.
Why should you listen to me?
I've managed to stay high on the Google search pages for "WordPress developer" and "WordPress developer London" for years. Purely by following on-site, technical best practices. I want to share with you the techniques that I've used so that you can grow your business.
Money back guarantee
We only review websites that we know we can help. If you've followed our recommendations and, after 3 months, your organic search traffic has not improved, we'll give you 100% of your money back.
Free e-book "WordPress SEO: 10 tips for better search ranking"
Your review will also come with a free copy of our WordPress SEO e-book. The book contains further detail on the factors involved and ways to fix them.
Ready to improve your search rankings?
What happens now?
Fill out the form below to send a review request. Your review costs £400 £199, and includes a free e-book. If we have enough slots available we'll send you an invoice and book you in.
This service now lives over at WP SEO Reviews.